Now, we live in a world where everything is at the tip of our fingertips because of the internet. As with any project, website development is no easy task. There are many "open fronts" that we must keep in mind. And we should follow the proper steps for building a website to avoid leaving things out of your startup business.
Since this is the case, running a business without a web presence is no longer possible.
Even a simple, well-designed website can give you an edge in your field, and if you have products to sell, your site can open up new markets and expand your business inexpensively and fast.
How can building a website help your startup to grow?
There aren't many startups that operate without a website, and there's no excuse why you shouldn't have one. Your startup's website can be a cost-effective and highly effective marketing tool.
Here are several ways in which building a website can help your startup grow.
Show your products and services. – When you have a website, you can show potential customers what they'll get when they work with you or avail of your services. One way to do this is by displaying high-quality photographs on your website.
Help build trust. – New clients and prospects may be interested in learning more about your company's history, skills, and services.
Customers can contact you quickly. – Customers can quickly contact you through your website and learn more about your products, services, and company.
Get listed on search engines. – Build a website using search engine optimisation (SEO) tactics can allow individuals to look for relevant keywords to find you easily. This could be a crucial step in growing your company.
Now that you know why building a website for your startup is essential, below are ten steps that can help you get started.
10 Steps to Building a Website For Your Startups Business
1. Buy a business domain name.
A domain name is an address on your website that people type into the URL bar of their browser to visit. When it comes to domain names, you have to get a little creative.
However, it must make a solid first impression for usability and search engine optimisation (SEO). Domains are essential for building trust with your audience and customers, so it is worth taking time.
Determine if you can afford your preferred website address, as most successful domain names are already taken and must be purchased from the current owner. If you plan to serve customers in the UK market only, a .co.UK domain is worth considering.
Again, always note that it's essential to take your time when choosing a domain name that accurately reflects your startup and that people will trust.
2. Choose a good web hosting provider.
A website host (or website hosting service provider) is a company that offers the technologies and services needed to access a website or webpage on the internet.
You connect your domain name to your website host so that when people type in your website address, they are taken to the website you have stored on your hosting account.
Depending on the technology and support, hosting services can cost $2 to $100+ per month. You usually get a discount when you choose an annual plan instead of a monthly one.
Here are some popular website hosting companies: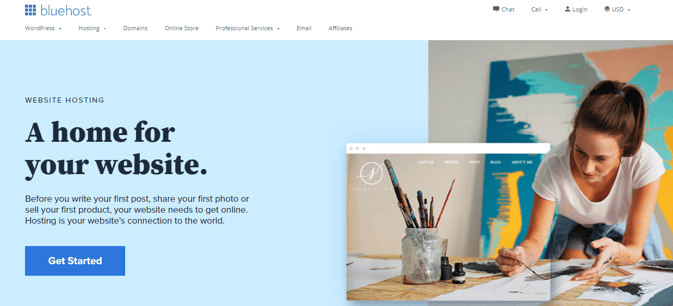 Bluehost is one of the most popular and reliable web hosting services.
They have excellent shared web hosting services at extremely low prices. They're also designed specifically for people who are new to website growth.
They also have excellent analytics and SEO tools to help you improve your website's efficiency while attracting more visitors.

DreamHost provides a fully custom control panel to manage your website. This is a great web host if you want more control over your website.
DreamHost is also one of WordPress's three recommended hosts, and its simple shared plans include controlled WordPress hosting. It offers an industry-leading free trial period, a complete 97-day money-back guarantee, as well as straightforward pricing that does not change after your initial contract.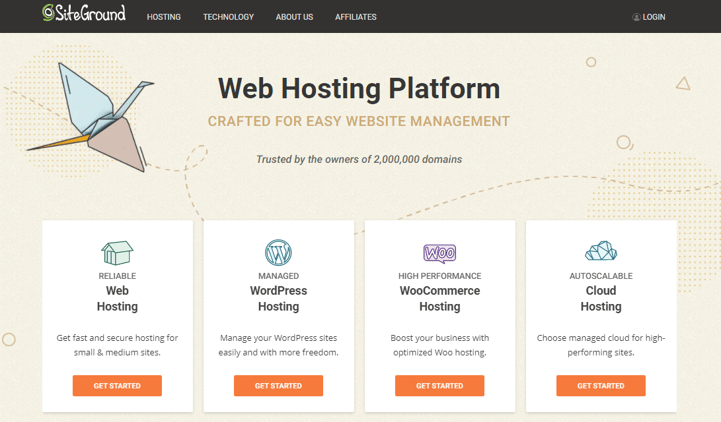 It provides shared hosting, cloud hosting, enterprise solutions, email hosting, and domain registration. It is built to deliver top-class speed to its customers and rock-solid security, particularly for WordPress sites.
SiteGround utilises Google Cloud to maintain fast and stable connections, and their SSD persistent data storage ensures low latency.
SiteGround also adds an extra level of security by constantly scanning for emergent platform vulnerabilities and offering auto-updates.
It also includes one-click WordPress installation, the WP Starter site builder, and auto-updates for both the WordPress platform and its plugins.
3. Install a content management system
A content management system (CMS) enables users to develop, manage, and modify website content without requiring advanced technical expertise.
When it comes to choosing CMS, choose one that is tailored for your unique needs. Different systems are used for various reasons, including user-friendliness, extensibility, and cost.
Here are some examples of content management systems that you can use.

WordPress is the world's most popular CMS.
It is free and relatively simple to install, and you can choose from hundreds of customisable themes to pick from, with new ones being added weekly.
Also, most website developers are familiar with it, so finding an individual or agency working on your site is not hard. Small businesses can use building a website due to its flexibility and extensibility.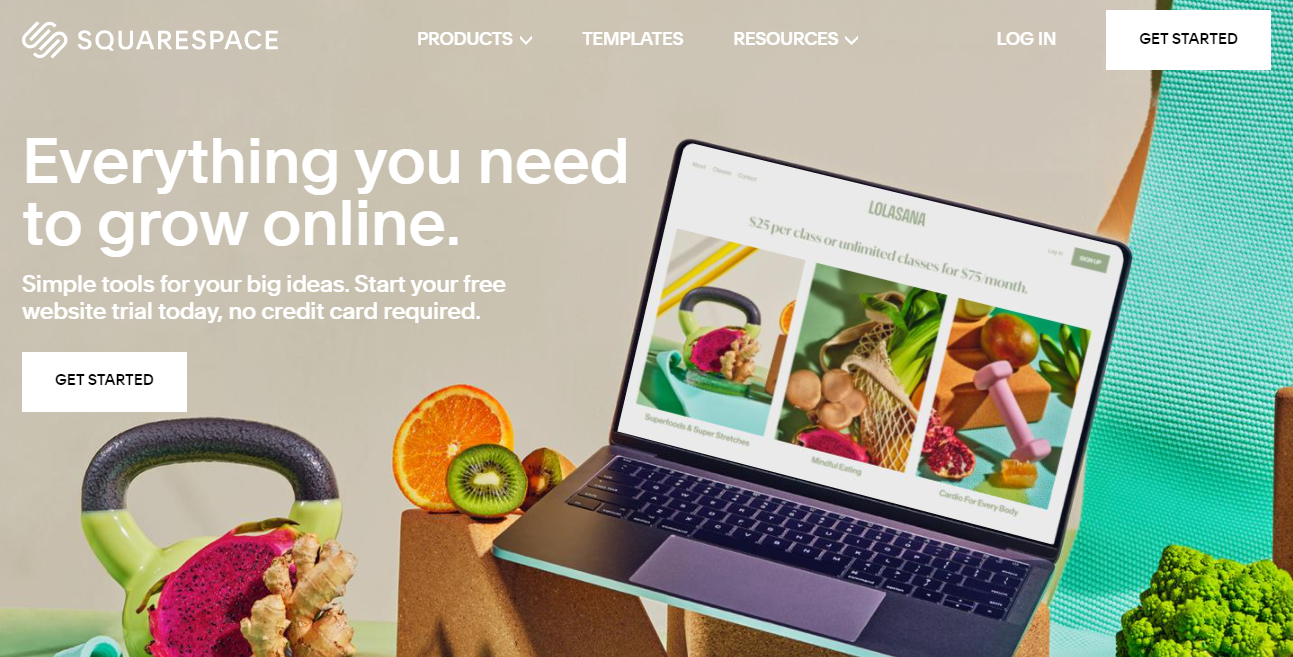 If you're on a tight budget and you need a basic and beautiful site but can't hire a website designer, Squarespace is great for you.
It's specially designed for creatives and includes high-quality design templates.
It includes website design and development, software maintenance, metrics, a domain name with a yearly purchase, SSL security, 24/7 support, and unlimited bandwidth and storage hosting.
You can also pay on a monthly or annual basis.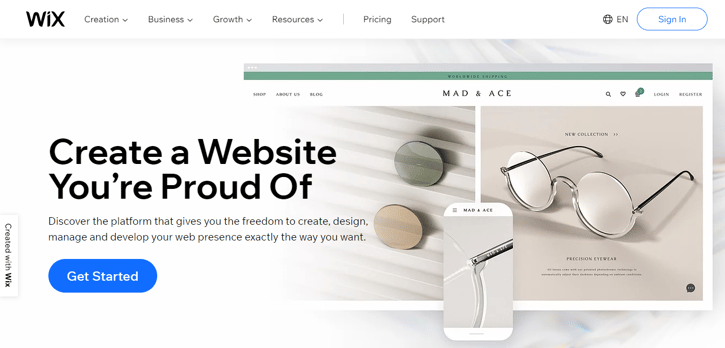 Wix is similar to Squarespace, although it is a little easier to use. It has similar functions and charges a monthly fee rather than an annual fee.
Wix is likewise a drag-and-drop builder, allowing you to freely drag and drop elements anywhere on the website. You can use video backgrounds, scroll effects, and animation to bring your site to life.
Although Wix has many more templates to choose from than Squarespace, once you pick one, you have to stick with it, or you'll have to rebuild your site fully.
4. Point your domain to your website
Pointing a domain is connecting your domain name to your web host's server. Consider your website to be your business, your web host's server to be the office building, and your domain name to be the signage. The process of pointing a domain when you're ready to launch your business (or when you're ready to go live with your website) is similar to putting the signage on your business.
If your domain doesn't point to your hosting service, visitors will get a "this site can't be reached" error message, and you'll miss out on them.
5. Create an engaging and user-friendly website interface
It would be best to create an engaging and friendly-user website interface that also displays a clear and straightforward description of your business.
Users today want your website to entertain them, present high-quality content, and provide a simple, pleasant user experience. The visuals of your site and the positioning of your CTAs can impact how long visitors stay on your page.
Here are some suggestions for creating an engaging and user-friendly interface:
Maintain brand consistency throughout the design of your website.
Check to see if your graphics have been compressed and optimised for quick loading.
Create a simple navigation system allowing users to quickly access the pages they need.
Include clear call-to-actions (mainly "purchase now" buttons).
6. Set up your payment system (if applicable)
Although this step won't apply to all business websites, those who wish their customers to pay electronically must incorporate electronic payment systems with their pages. E-commerce apps or third-party payment processors are the most convenient ways to do this.
Many web hosts offer an in-house shopping cart or e-commerce programs. Do your research and make sure you get something that's easy to work with and flexible enough to fulfil your needs now and in the future.
7. Add contents and images to your website.
It's essential to make a plan and publish high-quality content on your site (or even on external sites that connect to your site), especially if you want to rank well in search engine results and attract people to visit your site again and again.
You must update your website with new and relevant material as regularly as possible. Writing or designing are two options for creating content.
After creating content, set a schedule for posting (or paying for) your content on your chosen distribution channels or social media.
You'll also need to add images to your website. You can check out some free stock photo websites such as Pixabay, Pexels, and Freepik. You can also search for free icons, vectors, illustrations, and clipart.
Customize the site as you like, but don't go overboard, as you could spend years revamping your site.
8. Invest in search engine optimisation.
Search engine optimisation or SEO is the process of improving your site to increase its visibility for relevant searches. The higher your pages' visibility in search results, the more likely you will draw attention and attract new and existing clients to your company.
Here are several reasons you should start investing in SEO:
SEO works.
With over 3.5B searches per day worldwide, there's no doubt that ranking in Google's search results is an excellent opportunity to increase traffic to your company's website.
Investing in SEO and improving your Google rankings can bring more visitors to your website, resulting in more leads and sales for your business.
It isn't going away anytime soon.
Given how search engines look to be evolving, SEO is unlikely to cease soon. Audio and video searches rely on keywords the same way as traditional text-based material content.
Your competitors are doing it.
If your website already ranks highly in search results, that's excellent, but it means you'll need to keep investing in SEO to maintain that position. Because everyone is striving for the top rankings, your competitors will invest in SEO, and if they do and you don't, they will be able to overtake you. Don't let your competition outmanoeuvre you by overlooking this valuable business tool.
9. Make your website fast.
Improve the speed of your website. Pages should load as soon as possible, ideally in just three seconds.
Here are several reasons why:
People wouldn't return to websites that took more than four seconds to load, develop a "negative opinion" of a company with a poorly designed website, or tell their relatives and friends about their unpleasant experiences.
Slow loading times are cited by two-thirds of UK consumers (67%) as the primary reason for abandoning an online transaction.
40% of customers will abandon a website if it takes more than three seconds for a page to render.
Customers are frequently distracted when they are forced to wait for a website to load. 14% will switch to another site to shop, while 23% will quit shopping or walk away from their computer.
79% of online shoppers who experience a dissatisfying visit are less likely to buy from that site again.
You can use Google Analytics to provide additional help for improving the speed of your website. Although it only shows the PageSpeed Insights score and recommendations in your GA dashboard, it's still helpful to see it in a different way building a website.
10. Backup your entire website
Your website, like your computer, is vulnerable to cyber threats.
You need to backup your website regularly aside from adopting the required security safeguards. That way, if something unfortunate happens, such as individual hackers, everyday accidents,  or server failures, you won't have to start all over again.
Summary
Learning how to make a website is no easy task, even with a detailed guide to help you along the way.
However, when you start to see your hard effort pay off, it may be gratifying.
Still, the work isn't over. A good website is never finished. Since the internet is constantly evolving, so will your website.
Learn more and develop more sophisticated functionalities and features in building a website. Combine these tips with some of your research and planning to ensure success.
This way, you'll not only learn how to construct a website, but you'll learn how to make the exact website you desire for your startup.